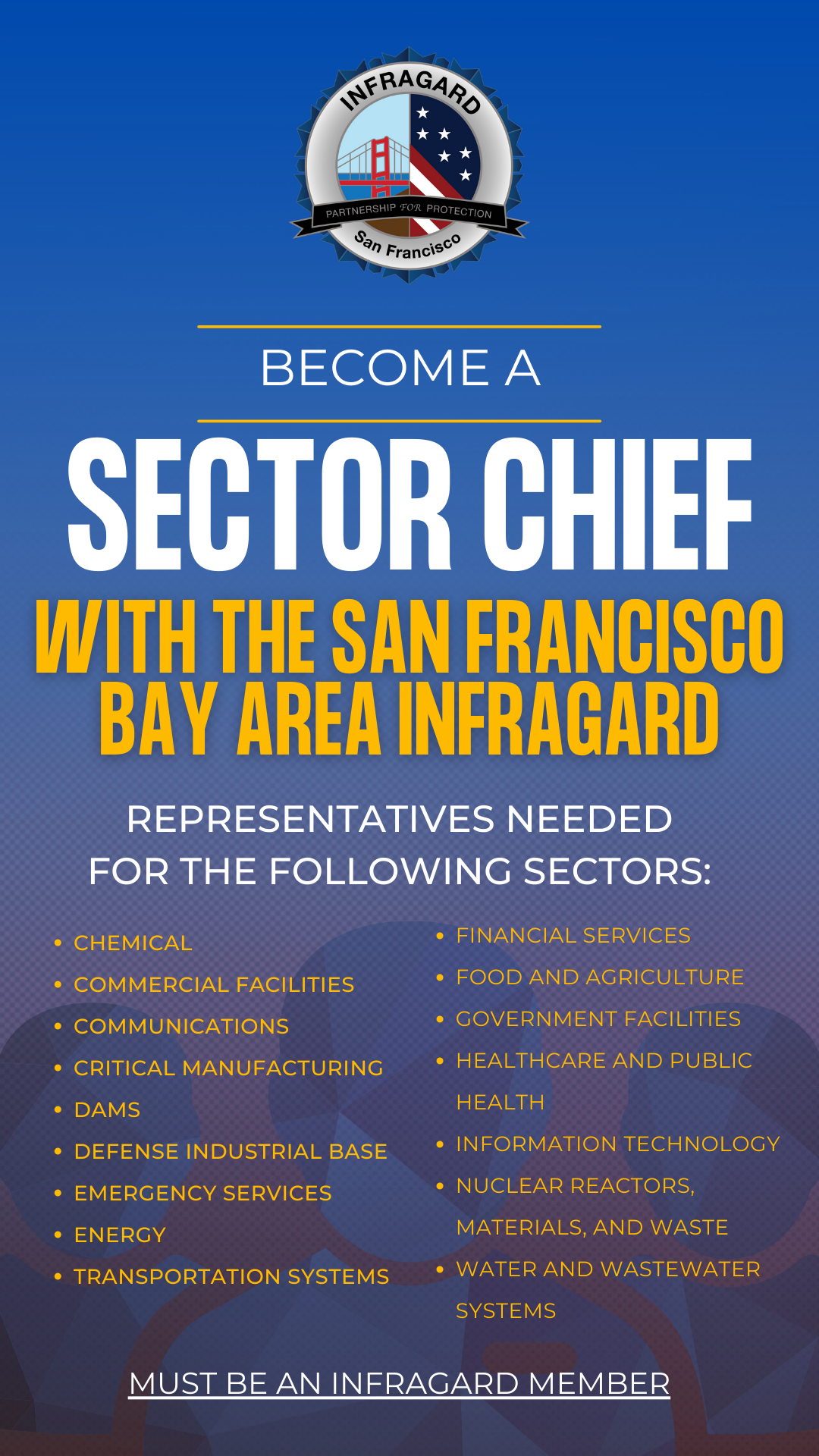 Sector Chief Qualifications and Responsibilities
The InfraGard Sector Chief Program was created to aid in the protection of the nation's critical infrastructure by establishing a network of members with sector-specific expertise to facilitate timely information sharing between the FBI and the private sector. This exchange of information enhances the ability of the FBI and partnering federal agencies to address threats to the sixteen recognized sectors of our nation's critical infrastructure. Sector Chiefs are expected to be the "tip of the spear" for the InfraGard San Francisco Bay Area Members Alliance. They are leaders who provide the greatest value proposition to our chapter's stakeholders for sector-specific expertise and service.
Motivated and active leaders within the InfraGard membership.
Subject matter experts with comprehensive knowledge and experience in one of the 16 critical infrastructure sectors.
Serves as an ambassador/spokesperson for InfraGard.
Serves as the primary point of contact for collecting and sharing sector-specific information to assist the FBI and other law enforcement and emergency management agencies.
Promote two-way information sharing and collaboration among sector members and other sectors (regular meetings, etc.)
Initiate training, exercises, and continuing education regularly.
Build effective relationships within their sectors and with partner agencies and organizations.
Provide tips, leads, and subject matter expertise to the FBI and other law enforcement authorities. All candidates are vetted and appointed by the board of directors.
The 16 critical Infrastructure sectors as set forth in Presidential Policy Directive (PPD)-21 are as follows: and critical infrastructure sectors, which includes members of local, state, and federal law enforcement, as well as individuals who are involved in the security of and protected research at educational institutions. The 16 critical Infrastructure sectors as set forth in Presidential Policy Directive (PPD)-21.
Chemical
Commercial Facilities
Communications
Critical Manufacturing
Dams
Defense Industrial Base
Emergency Services
Energy
Financial Services
Food and Agriculture
Government Facilities
Healthcare and Public Health
Information Technology
Nuclear Reactors, Materials, and Waste
Transportation Systems
Water and Wastewater Systems
THE APPLICATION PROCESS
Please use the contact form (see page headers) to submit your interest in becoming a sector chief. We will get back to you with more information about the next steps.